Submitted by

Admin

on Sun, 12/30/2018 - 12:47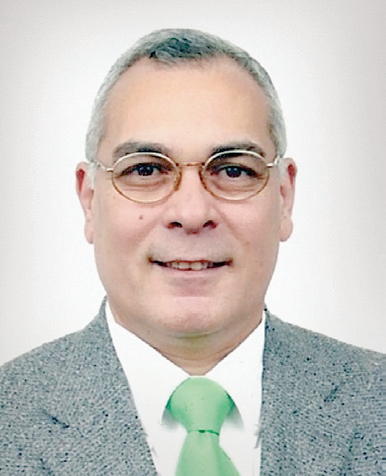 Perspectives of Joint Arthroplasty
Dr. Timour El-Husseini
Professor of Orthopaedics Ains Shams University President Of The Egyptian Arthroplasty Group
Introduction:
Total joint arthroplasty is a surgical procedure in which parts of an arthritic, damaged or worn joint are removed and replaced with a prosthesis, manufactured of metal, plastic or ceramic material, and fixed by a layer of acrylic cement, or by direct press fit without cement. The prosthesis is designed to replicate the movement of a normal, healthy joint, aiming at a painless, stable, full range of motion.
Joint replacement started on a clinical scale in the 1970s by exceptional work done by Sir John Charnley in UK, through his famous low friction hip arthroplasty concept.
Almost 4 million total joint replacements were performed worldwide in 2015. Hip and knee replacements are the most commonly performed, but replacement surgery can be successfully performed on other joints, as well, including the shoulder, elbow, ankle, and wrist
Anatomy and Design Considerations:
The hip and shoulder are examples of "ball and socket" joints, while the knee is an example of a "hinge" joint. These anatomical differences lead to a difference in the prosthetic design. Where the total hip depends on the fitting ball and socket for stability, the total knee depends mainly on soft tissue and ligament tension for its stability
Indications
for joint arthroplasty:
If nonsurgical treatments like medications, physical therapy, and changes of everyday activities do not relieve pain and disability, total joint replacement may become recommended.
This situation is globally called "end stage arthritis", seen in advanced cases of varying degenerative, inflammatory, metabolic, or neoplastic conditions. Some fractures also are best treated by joint replacement rather than fixation, most famous is displaced fractures of the neck of femur in the elderly.
Very few contraindications are considered, the most important is the presence of current local or systemic infection
The Operation:
Preoperative planning and patient preparation is mandatory to achieve success. Total joint replacement surgery takes a few hours and the hospital stay has now diminished to few days, while some centers in USA and Europe started Outpatient Programs.
General or epidural anaesthesia give the surgeon good muscle relaxation and helps to ease the surgical steps and shorten the operative time. Good relaxation with controlled blood pressure during surgery has also helped to decrease the intraoperative and postoperative bleeding.
The surgeon general aims is creating a new prosthetic joint with "on table" stability, good range of motion, and corrected deformities.
Early movement and quick rehabilitation is essential to prevent stiffness, strengthens muscles, and improve balance and proprioception. This is more critical in the knee and elbow and compared with the hip, and is highly related to the age and preoperative disability.
Complications:
The potential risk of complications after joint replacement surgery has decreased dramatically over the years with adjustments of strict surgical rules and employment of ultra-clean surgery concepts.
Venous thromboembolism may occur, and routine prophylaxis is a part of perioperative regimen in most centers.
Early or delayed infection is another disaster and strict clean surgery and the use of prophylactic antibiotics have achieved a good reduction of infection risk to less than 1%.
Joint instability and leg length
discrepancy (in total hip) are also on the decrease due to improving ability to plan before surgery, and to reconstruct defective parts of the bone that may lead to these problems.
Nerve damage is uncommon but can happen especially in premorbid patients, during certain extensive approaches, and if too much lengthening has occurred (>4 cm).
Delayed implant aseptic loosening is a potential problem, due to the presence of wear particles, mainly polyethylene or metal, which will initiate an osteolytic reaction around the prosthesis.
Improvement in technology:
Over time, surgeons have addressed certain limitations of this type of surgery by improving the design of the prosthesis as well as the techniques of surgery.
The fixation methods have changed from using acrylic cement to using advanced metals and designs that allow cement-free fixation with excellent direct prosthesis to bone integration.
The bearing and articulating surfaces are now made of extremely wear resistant materials such as ceramics and zirconia and cross-linked polyethylene.
Surgical exposures and pain management techniques are always progressing to allow less pain and blood loss, together with shorter hospital stay.
About 85 percent of prosthetic knees still work after 20 years. Their endurance is one reason that this procedure is so popular.
The success rate of hip replacements 10 years after surgery is 90- 95% and at 20 years is 8085%-. Should an implant wear or loosen, revision to a new replacement is possible. Modern implant materials coupled with the aid of computer navigation can boost the longevity for hip replacement up to 30 years.4
The survivorship of recent total shoulder, elbow and ankle replacement surgery is around 15 years.
With the advance of this kind of surgery, the age at which joint arthroplasty surgery is done has been continuously decreasing, and over time, a greater number of patients are younger and more mobile and active. Consequently, a greater number of patients will need a loose or worn prosthesis to be replaced. Thus revision of a worn implant and replacing it with a new one is on the increase.
This lead to major advances in developing special techniques to restore bone stock by prosthesis or by bone graft, and special stems and acetabular components that allow secure fixation to osteoporotic and weak bone, to the limit that revision arthroplasty has become a subspecialty giving outcome and survivorship equal to that of primary surgery.
The following illustrative figures helps in understanding this general view on arthroplasty.